A FANTASTIC 3-DAY WEDDING REPORTAGE
Marie and Thierry originate from Belgium and have lived in Germany for several years.  This happy couple loves to party and enjoy the company of close friends.
They wanted their wedding photos to document their happiness and reflect the casual chic style for which Belgium is renowned.
Their wedding party was comprised of family and friends from all around the world and they were surrounded by children, including their own, as they exchanged vows on the magnificent Gutshof estate in Ladenburg. Many meaningful speeches, some accompanied by tears of joy, were followed by an evening of dancing and merriment.
I accompanied them for three entire days to capture the preparation of the festivities, the wedding celebration and the relaxed day afterwards where they hiked through the forest and spent a marvellous time with their guests in an authentic local restaurant acquainting them with the charms of the regional cuisine.
My focus was capturing the sentiments and emotions of these three days which the bride and groom will never forget. The photos reflect the natural and informal joy of the wedding and celebrate the precious, unexpected events which took place.
I am grateful for the opportunity to know this incredible couple and to be a witness to their intimate and wonderful expression of love for each other.
The beautiful Wedding Book I created records this special event for posterity!
TU AS RENDU CETTE JOURNÉE ENCORE PLUS MAGIQUE!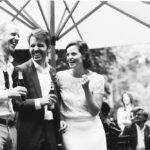 Un tout grand MERCI pour tant de choses…
pour ton professionnalisme, ta discrétion, ton talent, tes magnifiques photos et ta disponibilité.
Quelle chance que nos chemins se soient croisés à Heidelberg! Tu as rendu cette journée encore plus magique et grâce à tes photos, les souvenirs resteront à jamais gravés dans nos mémoires! On t'embrasse fort!
Marie & Thierry